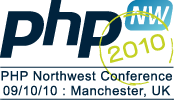 I just wanted to do a little shout out to any developers, to say that the early bird ticket deadline is fast approaching for this years PHPNW conference.
Tickets have been on sale for a while now at £58 (ex VAT) but this will go up on the 12th August to £75 so if your thinking of going, now's the time to get your ticket.
For more information or to book your ticket goto http://conference.phpnw.org.uk/phpnw10/.
Update [5/8/10]:
FYI The early bird ticket closing date has been extended to Saturday 4th September.
Tags: conference, php, phpnw