Last year I wrote a brief post about my first trip to the Manchester based PHP developer conference, PHPNW10. It's now almost a year later and this years conference is just 1 month away so I think it's about time I did a little plug for them and try to convince anyone that stumbles upon this post to buy a ticket and attend.
PHPNW is a user group meetup of PHP developers based in Manchester, with the aim of sharing experiences and improving knowledge of all things PHP (and other related technologies). The group meet the first Tuesday of the month for a 40 min or so talk on the speakers chosen topic. They held their first conference in 2008 and have had one each year since. Find out more on the conference About page.
So Why should you attend?
2010 was my first PHPNW conference and as I said in my post at the time it was a great experience, I met a lot of new people, and learnt a lot of new tips, tricks and tools to help my PHP development. I have used them to improve the way I do things both at work and at home on personal projects so it was well worth the money and I had a great time.
This year, the conference is going to be bigger and better, with a new venue, more speakers, a new track, increased sessions on the 2nd day, a pre-conference tutorial day, an unconference, the list goes on. Its going to be an amazing couple of days and I learnt so much last year and am expecting this year to be no different. There are some really interesting sessions going on, am stuck with a couple of talks on which one Im going to go to. The good news is, which ever I decide, all the sessions are filmed so I will get to see all of them anyway after the conference is over and my post conference drinks related headache has subsided.
I really do recommend you clear the 8th and 9th of October from your diary, buy your ticket and pop down to Manchester for a great couple of days. If you do attend, don't forget to say hi, and mines a Carlsberg 🙂
Now, enough of my waffling, down to the important bit. You have just 1 day left to get your Early Bird Tickets, before the price increases a little (not too much) in the final days run up to the conference weekend.
You can find out more information on the PHPNW11 conference website or by following and tweeting to the @PHPNW Twitter account.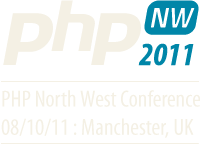 Tags: conference, manchester, php, phpnw, phpnw11